The Best Fencing Company in St. Charles Parish
Amko Fence Company  Installation And Repair In St. Charles Parish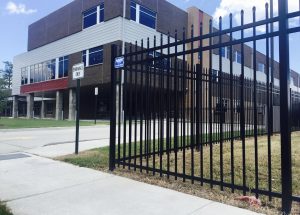 Amko Fence Company is the premier fencing installation and repair company in the St., Charles Parish, because of the vast services that we offer, done at the highest quality possible, offered at affordable costs to you. We have the best fencing installation and repair contractors available with many years of experience remodeling homes in the St. Charles Parish. All of our contractors are licensed, bonded, and insured. There is no reason not to choose Amko Fence Company for all your fencing installation and repair services that you need for your home.
Amko Fence Company offers a wide variety of fence installation and repair services to homeowners and commercial property owners in St. Charles Parish and the surrounding areas. We offer services like fence repair and installation, privacy fence installation and repair, chain link fence installation and repair, and many more services. We install and repair every kind of fence imaginable. Our team of dedicated fencing contractors is licensed and insured and they have years of experience installing and repairing fences all across the St. Charles Parish.
Fence Installation And Repair
For over 40 years, Amko Fence Company has been installing and repairing fences in the South Louisiana area. Our customer service driven approach has helped us grow into the premier fencing company in all of South Louisiana and the St. Charles Parish. We guarantee customer satisfaction with our quality work on all of our fence installation and repair projects. Whether you are looking for an ornamental, wood, vinyl, chain link, or custom fence, we can provide you the style and designs that meet your needs.
Residential Fence Repair and Installation
A great addition to your home is a residential fence. Amko Fence Company offers a wide variety of residential fence installation and repair services like privacy fences, pool fences, iron fences, chain link fences, and other types of home fence styles. All of these fence styles are sure to add value to your home and enhance the look and safety of your house. Whatever residential fence type that you are wanting, we have the best contractors available to install it for you. We also offer excellent residential fence repair services to the St. Charles Parish.
Commercial Fence Company
At Amko Fence Company, we have a dedicated commercial fence division that specializes in providing reliable and professional service for businesses, schools, and industrial properties in the St. Charles Parish. We can customize your commercial fence system to best fit your unique design needs. We understand that security is extremely important to commercial properties. We are fully licensed and bonded with the Louisiana State Fire Marshall. So whether you are needing a school fence, sports field enclosure, or security fence or gate (manual or automated), we can provide you with the perfect commercial fence solution. We use top-of-the-line systems and materials including aluminum, automatic gates, chain link, ornamental steel, vinyl, wood, wrought iron, and more.
Amko's Affordable Pricing
Our dedication to affordable pricing for our services is just another aspect of our dedication to our customers. We don't just want to offer our abilities and services to those in the St. Charles Parish that can afford it but to everyone in the St. Charles Parish. We pride ourselves on our honesty and we never overcharge for materials or for labor. We promise to always deliver the best deal to you. We work with your budget to maximize the value that you'll receive so that you don't feel like you overpaid for anything.
Call us today to get a free quote on your project and let us put together a detailed, written estimate to show you our unbelievable pricing.
Since 1976, Amko Fence Company has provided customers with strong and secure fences for their properties and we want to provide you with one for your property as well. So give us a call today to get your free quote on any of our fence installation and repair services. We will be happy to send one of our licensed contractors to your home or commercial property to give you an estimate and discuss with you the many options that you have for installing or repairing a fence with Amko Fence Company.