Amko Fence Proudly Serves Metairie, LA
Best Fence Company in Metairie, LA!
Amko Fence Company in Metairie, Louisiana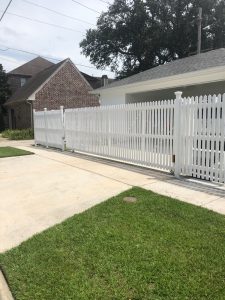 Amko Fence Company is proud to serve the city of Metairie, Louisana. Metairie is the largest community in Jefferson Parish with a population exceeding 138,000 people. There are many residential, commercial, and industrial properties that have used the services of Amko Fence Company since 1976. We have provided our customers with quality fence construction for their properties. We are a fully licensed and bonded fence contractor.
We love the Metairie community and we are proud to offer our fencing services to the people of this amazing community. We offer many various fencing services to the property owners of Metairie. We offer complete fence installation and repair on many distinct fence styles and types. We offer installation and repair of wrought iron, ornamental, wood, vinyl, chain link, and custom fence types so that we are sure to equip you with the look, style, and designs that meet your demands.
Why We're The Best
We are proud to say that Amko Fence Company in Metairie is the best fencing contractor in the Metairie area. We feel that we are able to make that bold claim because of our dedication to our customers. Our customers are the lifeblood of our company and we treat each and every customer like they are our only customer. We focus on your project so that you know that you are the priority.
We are happy to boast of our customer service driven office staff that will take care of any insurance requirements, OSHA safety logs, specifications, and all of our customer's questions. Our commitment to our customers is what makes us the best fence company in the Metairie area.
Amko Fence Company in Metairie has the most equipped, experienced fence contractors in the Metairie area. We are a fully licensed and bonded fence company that is pleased with the numerous services that our contractors train in. We offer an automatic gate and access control division that specializes in motorized gate installation and security. Our gate and access control department is managed by certified technicians.
Customer Service
Customer service is the key to any business. Great work and affordable pricing are just not enough to overcome bad customer service. At Amko Fence Company in Metairie, we make customer service our top priority. Our dedication to working with you to deliver the fencing project that you want is something that we pride ourselves in. Call us today to let us show you how our customer service makes us the number one fencing contractor in the Metairie area.
Workmanship
Our workmanship is second to none when it comes to quality and efficiency. We have the best fencing contractors in the Metairie area and we are proud of it. We pride ourselves on not only offering a wide variety of services that cover all of your fencing needs, but also the ability to deliver high-quality results on these offerings. Our team is highly experienced in every facet of fencing construction and can work through any challenge that we are confronted with. Call us today to see how we can deliver the best workmanship on your fencing project today.
antje@planetguide.com
Halloween Fence Decorating Tips If you haven't done so, now is the time to get ready for Halloween. Attracting trick-or-treaters isn't always easy, so we have a few tips for you to give your [...]
antje@planetguide.com
Caring For Your Fence After A Flood The hurricane season will go through November 30th which means we will still need to keep a close eye on the tropics. Even though New Orleans has [...]
antje@planetguide.com
Weed Eaters And Vinyl Fences In our hot and humid New Orleans climate, grass and weeds grow constantly and you will need to mow your lawn at least once a week in the summer [...]