Halloween Fence Decorating Tips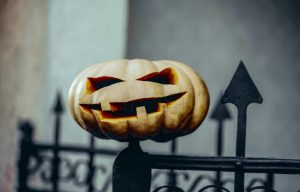 If you haven't done so, now is the time to get ready for Halloween. Attracting trick-or-treaters isn't always easy, so we have a few tips for you to give your fence some spooky curb appeal. We also have some advice on what to avoid to keep your fence looking great even after Halloween is over.
Wooden Fences
Spruce up your wooden fence by putting a pumpkin or a other lanterns up. If your fence is tall enough, you could also hang a scarecrow from the posts. Fake spiderwebs, creepy "Keep Out" signs, fake skeletons or ravens attached to your fence will surely create the Halloween feel you are looking for…. Just avoid nailing anything to your fence. Use glues or tape that can be easily removed instead. You do not want to damage your fence or the paint on your fence when decorating it for the next couple of weeks.
Iron Fences
If you are from New Orleans, you know, that iron fences are usually built around cemeteries. You can easily create that sort of atmosphere by putting some fake tombstones in your yard right next to your iron fence. Some cobweb-like materials spread between the rails will make your iron fence look even more frightening during the spooky time of year. When attaching the items to your fence, do not scratch the paint. You don't want your fence to start rusting once Halloween is over.
Vinyl Fences
Vinyl Fences tend to have smooth surfaces, that's why you could use a projection system to project images onto your fence to create a haunting atmosphere. A projection system will let you show logos, patterns or even photographs of scary images on your fence. All you need is access to electrical current outside your home. If you decide to attached spiderwebs of bats to your vinyl fence, make sure you do not damage the vinyl. Never nail anything to your vinyl fence.
Need Some Help To Get Into The Halloween Mood
Once you are done with your own haunted house, why not check out some of the Halloween attractions New Orleans has to offer. Here you'll find some more ideas or you can just enjoy getting scared:
Scout Island Scream Park – Click HERE for more details.
The Mortuary – Click HERE for more details.
Krewe Of Boo – Click HERE for more details.
Anne Rice' 300th Annual Vampire Ball – Click HERE for more details.