'On The Fence' – Where Does The Expression Come From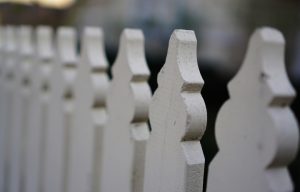 You probably have heard the expression 'on the fence' before. It is a rather common idiom used in English to describe someone's lack of decisiveness, or hesitance to choose between two sides in an argument or a competition. It can also refer to the inability to decide due to a lack of courage.  Some people do this either to remain on good terms with both sides or just don't care enough about the issue at hand and choose to not take a position. Fences, as you know, often define properties and ownership, so sitting 'on the fence' literally would mean sitting between two properties.  Metaphorically, sitting 'on the fence' is straddling the position between two ideas without committing to either of them. For instance, if you don't know which basketball team to root for, you are on the fence.
Origin Of The Idiom
The idiom has its roots in Middle English, according to experts. Back the word fens, which is short for defens, was used first. They say later, an "e" was added to the term to form the word defense as it is used today. The phrase 'on the fence' has been in popular use since the 1800.
Don't be on the fence when it comes to your new fence. Whether you are looking for an ornamental, a wood, a vinyl, a chain link, or a custom fence, Amko Fence Company can provide you the style and designs that meet your required needs
Over 40 years ago, Amko Fence Company began as a small shop that has since expanded to 2 locations serving South Louisiana with more than 30 employees. We have a customer service driven office staff that will take care of insurance requirements, OSHA safety logs, specifications, and all of our customers' questions.
As New Orleans Fence Contractors, We Guarantee customer satisfaction with our quality work.. Call the Amko Fence Company Today at  (504) 468-9559 or visit bids@amkofenceco.com!