Get Your Fence Ready For Spring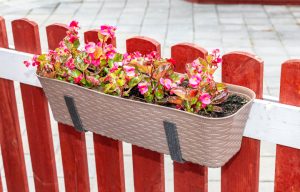 Spring is just around the corner, which means soon you will be spending much more time outside. This is a good time to spruce up your fence and get it ready for the outdoor seasons.
Clean Your Fence
It's time for a good spring cleaning and this also applies to your fence. After a rather wet winter, your wood a vinyl fence might look dirty due to algae, mildew or mold. It may also just have collected some dirt over time and not necessarily look its best right now. As you know algae mildew and mold are organic growth, usually caused by moisture. If you have a wooden fence, use a cleaning solution, a spray washer and some elbow grease to get the organic growth off. This might take a while since wood is not a smooth material and algae, mildew or mold can get rather deep into the material. If you have a vinyl fence the cleanup will be a little easier since vinyl is a rather smooth material. Renting a pressure washer will probably do the trick and help you get your fence shiny again. If you do not want to clean your fence, get an aluminum fence. They are very low in maintenance.
Add Some Plants
Also, clean debris dirt and maybe even weeds from around your fence. Adding some plants will give your fence a new and fresh look. As a matter of fact, integrating plants into fencing is becoming more and more popular. You could either frame plants into a section of the fence, or  place lattice in different shapes on your fence and have plants grow on them.
If you are considering getting a new fence to spruce your home's curb appeal up a little contact Amko Fence!
Whether you are looking for an ornamental, a wood, a vinyl, a chain link, or a custom fence, Amko Fence Company can provide you the style and designs that meet your required needs
Over 40 years ago, Amko Fence Company began as a small shop that has since expanded to 2 locations serving South Louisiana with more than 30 employees. We have a customer service driven office staff that will take care of insurance requirements, OSHA safety logs, specifications, and all of our customers' questions.
As New Orleans Fence Contractors, We Guarantee customer satisfaction with our quality work.. Call the Amko Fence Company Today at  (504) 468-9559 or visit bids@amkofenceco.com!