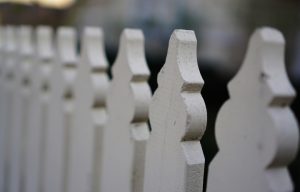 Have you ever wondered why picket fences have become basically a slice of Americana? They symbolize the ideal middle class suburban life  in the US.
A Little Background
The term "picket" originates (in 1690) from the French "piquet," from the verb "piquer," meaning "to pierce," hence the pointed shape of the picket, according to the Online Etymology Dictionary.  Once used as a weapon, the picket also helped form a barrier. That's why we also have the expression picket line (striking workers stationed to prevent others from entering a factory).
Colonists at first built the iconic fences to keep chickens in the yard, and, of course, to protect their gardens. Then, the harsh conditions after the Revolutionary War called for sturdy, utilitarian and simple fence designs. The classic wood fence was made from palings that were made of round stakes or flat strips of locally found wood.
The Fence Today
Nowadays, picket fences are often used decoratively to improve a home's curb appeal. Their evenly spaced vertical boards, or pickets, attached to horizontal rails do not provide any privacy. Did you know that until the introduction of advertising in the 1980s, cricket fields were usually surrounded by picket fences? Some say they actually gave rise to the expression "rattling the pickets" – after a ball hit firmly into the fence. Historically, wood has been the most popular material used for picket fences, but today there are many non-wood options are available; including vinyl, aluminum, and PVC.
Whether you are looking for an ornamental, a wood, a vinyl, a chain link, or a custom fence, Amko Fence Company can provide you the style and designs that meet your required needs
Over 40 years ago, Amko Fence Company began as a small shop that has since expanded to 2 locations serving South Louisiana with more than 30 employees. We have a customer service driven office staff that will take care of insurance requirements, OSHA safety logs, specifications, and all of our customers' questions.
As New Orleans Fence Contractors, We Guarantee customer satisfaction with our quality work.. Call the Amko Fence Company Today at  (504) 468-9559 or visit bids@amkofenceco.com!