Is Your Fence Ready For Halloween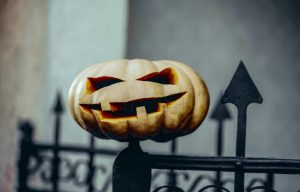 It is time to get your fence ready for Halloween. If you want to attract trick or treaters, there are a few things you can do to give your fence some spooky curb appeal.
Wooden Fences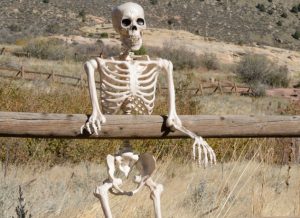 Spruce up your wooden fence by putting a pumpkin or a other lanterns up. If your fence is tall enough you could also hang a scarecrow from the posts. Fake spiderwebs, creepy "Keep Out" signs, fake skeletons or ravens attached to your fence will surely create the Halloween feel you are looking for.
Iron Fences
If you are from New Orleans, you know, that iron fences are usually build around cemeteries. You can easily create that sort of atmosphere by putting some fake tombstones in your yard right next to your iron fence. Some cobweb-like materials spread between the rails will make your iron fence look even more frightening during the spooky time of year.
Vinyl Fences
Vinyl Fences tend to have smooth surfaces, that's why you could use a projection system to project images onto your fence to create a haunting atmosphere. A projection system will let you show logos, patterns or even photographs of scary images on your fence. All you need is access to electrical current outside your home.
Need Some More Ideas
Once you are done with your own haunted house why not check out some of the Halloween attractions New Orleans has to offer. Here you'll find some more ideas or you can just enjoy getting scared:
Scout Island Scream Park – Click HERE for more details.
The Mortuary – Click HERE for more details.
Krewe Of Boo – Click HERE for more details.
13th Gate – Click HERE for more details.
New Orleans Nightmare House – Click HERE for more details.
Bernie Baxter's Traveling SideShow – Click HERE for more details.
8th Annual NOLA Horror Film Fest – Click HERE for more details.
Anne Rice' 300th Annual Vampire Ball – Click HERE for more details.
Whether you are looking for an ornamental, a wood, a vinyl, a chain link, or a custom fence, Amko Fence Company can provide you the style and designs that meet your required needs
Over 40 years ago, Amko Fence Company began as a small shop that has since expanded to 2 locations serving South Louisiana with more than 30 employees. We have a customer service driven office staff that will take care of insurance requirements, OSHA safety logs, specifications, and all of our customers' questions.
As New Orleans Fence Contractors, We Guarantee customer satisfaction with our quality work.. Call the Amko Fence Company Today at  (504) 468-9559 or visit bids@amkofenceco.com!