Fence Trends 2019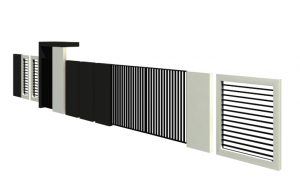 The year 2018 is coming to an end, which means will you start making plans for next year. Maybe you are thinking about revamping your fence. Just because you need a fence to serve a practical and functional purpose does not mean your fence needs to look like the old traditional fence you see throughout your neighborhood.  Your fence can make a statement and tie in with the design of your home and your landscaping. Take a quick look at some of the fence trends we believe will be popular in 2019.
Ultra Modern
A trend that does not seem to go away is ultra modern. Those fences feature straight horizontal or vertical lines which give your backyard a clean look. Preferred colors appear to be all shades of gray. Those colors blend in very well with the environment.  These fences are usually very sleek. They provide great privacy protection while looking stylish. Some designers say they prefer wood alternatives such as vinyl, steel, or composite as go-to materials since those offer  a greater variety, are low-maintenance and Eco-friendly. The look of these fences ranges from traditional to modern.
Add Plants
Integrating plants into fencing is becoming more and more popular. You could either frame plants into a section of the fence, or  place lattice in different shapes on your fence and have plants grow on them. Using plants as a part of your fence design is growing in popularity. 
Light It Up
Integrating light into your fence will not only bring its look up to date, but will also help you light up your backyard. You could place some LED lights on top of some of your fence posts or just attach a string of lights to your fence. Online retailer also offer various solar powered outdoor lights that can be used on fences.
Whether you are looking for an ornamental, a wood, a vinyl, a chain link, or a custom fence, Amko Fence Company can provide you the style and designs that meet your required needs
Over 40 years ago, Amko Fence Company began as a small shop that has since expanded to 2 locations serving South Louisiana with more than 30 employees. We have a customer service driven office staff that will take care of insurance requirements, OSHA safety logs, specifications, and all of our customers' questions.
As New Orleans Fence Contractors, We Guarantee customer satisfaction with our quality work.. Call the Amko Fence Company Today at  (504) 468-9559 or visit bids@amkofenceco.com!